Recitals Australia Presents
Lunch Hour Junior Series
North Adelaide Baptist Church Hall – Tynte Street, North Adelaide
Wednesday 1 November, 2023
at 12.30pm
for approximately 55 minutes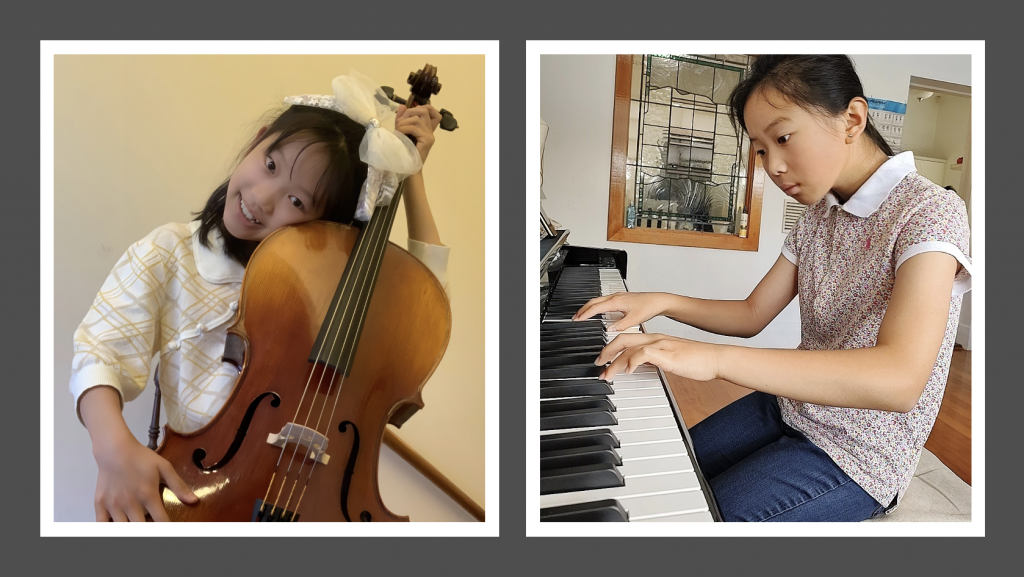 Nicole Guan and Emily Wu
Program
Emily Wu, piano
Ross Edwards (b 1943)
'Frangipani' and 'Arc of Flowers'
(from Mantras and Night Flowers)
Miriam Hyde (1913-2005)
'Vine Trellis'
Joseph Haydn (1732-1809)
Sonata in E flat Hob.XVI:49
i. Allegro
Dmitri Dmitriyevich Shostakovich (1906-1975)
Three Fantastic Dances
i.Allegretto
ii. Andantino
iii. Allegretto
Christian Sinding (1856-1941)
Rustle of Spring
6' | 4' | 8' | 4'30" | 4' |
ABOUT EMILY
Emily is an enthusiastic and energetic year 6 student currently studying piano, cello and clarinet. She has passed her AMEB grade 8 piano exams with honours. She is working toward her AMEB grade 7 cello exam and grade 7 clarinet exam. Emily really enjoys studying music with Monika Laczofy OAM. In 2023 Emily participated in the SA music camp program as a cellist in the Bishop Orchestra.

Nicole Guan, cello with Yining Zhang, piano
Johann Sebastian Bach (1685-1750)
Cello Suite No. 3 in C Major
i Prelude

Camille Saint-Saëns (1835-1921)
Allegro Appassionato Op.43
Gabriel Fauré (1845-1924)
Élégie Op.24
David Popper (1843-1913)
Polonaise de Concert Op. 14
3'30" | 4'30" | 7' | 7' |
ABOUT NICOLE
Nicole is currently eleven years old and studies cello with Sharon Grigoryan. Nicole has won numerous first prizes in the Adelaide Eisteddfod, including the winner of The David Bishop Cello Medallion and on flute the The Ray Rosser Memorial Award.
Nicole also learns singing and piano. She loves music and lives in her pieces.
She wishes to go further and further on the road of music and help others on the way to her dreams.