Recitals Australia Presents
The Final of the 2023 Spring Lunch Hour Series
Tynte Street, North Adelaide
Saturday 11 November, 2023
at 2.30pm
for approximately 90 minutes
Featuring Paula Custodio, flute and Haowei Yang, piano; Joey Yan, piano; Yingying Shu, piano; Tim Tran, viola; and Yifei Chong, piano.
Program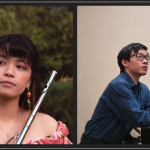 Paula Custodio, flute and Haowei Yang, piano
Sergei Prokofiev (1891 – 1953)
Sonata for Flute and Piano
iii Andante
iv Allegro con Brio


ABOUT PAULA
Paula is an early career flautist and piccolo player who has recently graduated from the Elder Conservatorium with Bachelor of Performance (Classical) with First Class Honours, under the tutelage of Elizabeth Koch OAM and Kathryn Moorhead. In 2021 Paula attained AMusA with distinction and was awarded the Associate Prize. She is very passionate about chamber music and has recently returned from touring sold-out shows across Australia with Eric Roth, who had arranged music from the Japanese video game franchise Final Fantasy. Later this year Paula will be working on oboist Celia Craig's media and communications team, working with the Burnside Symphony Orchestra as a soloist, and preparing for postgraduate studies in Europe.
ABOUT HAOWEI
Haowei Yang is currently undertaking Honours study with a major in classical performance in piano at the Elder Conservatorium. He is currently a student of Konstantin Shamray and previously studied piano with Stefan Ammer. Haowei formally started his music journey with piano at the age of seven and since then has been involved in many musical ensembles and concerts as well as joining many professional bodies.  Haowei is currently participating in the Recitals Australia Fellowship Program.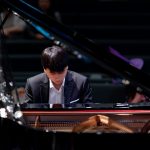 Joey Yan, piano
Frédéric Chopin (1810–1849)
Ballade No. 1 in G minor, Op.23
 
Nikolai Kapustin (1937–2020)
Eight Concert Études for piano, No.8 in F minor, Op.40 "Finale"

ABOUT JOEY
Joey Yan is a Year 11 student at St Peter's College studying the piano and pipe organ under his Music Scholarship. Under the tutelage of Irina Lioubimova and Monika Laczofy OAM, Joey has attained both the AMEB AMusA (2022) and LMusA (2023) in piano. Joey has been awarded many prizes in piano competitions including Silver Medalist of the 17+ Solo Piano Recital section of the Eisteddfod this year. Joey also enjoys other genres of piano including Jazz, and is currently the pianist of his school's division 1 Big Band.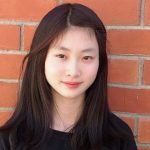 Yingying Shu, piano
Wolfgang Amadeus Mozart (1756–1791)
Piano Sonata No.15 in F major, KV 533/494
Allegro


Claude Debussy (1862–1918)
Estampes, L.100 –  III: Jardins sous la pluie


ABOUT YINGYING
Yingying Shu is currently in Year 10 at Marryatville High School studying as a Special interest music student. She began studying piano when she was 6 and completed her AMusA for piano in 2021 under the tutelage of Monika Laczofy OAM. Yingying also plays violin, and obtained her Certificate of Performance for violin in 2023. She is a member of the Adelaide Youth Orchestra and enjoys participating in chamber ensembles and choirs at school.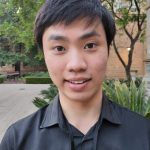 Tim Tran, viola
 Max Reger (1873-1916)
Suite for Viola Solo No.1 in G minor
ABOUT TIM
Tim Tran is an Adelaide-based violist currently completing his Bachelor of Music in Classical Performance at the University of Adelaide. Previously, Tim studied at the Yehudi Menuhin School in England up until the end of 2021 with Boris Kucharsky. Prior to this, he studied under Keith Crellin OAM and currently studies under Stephen King. Tim is passionate about chamber music and has been affiliated with numerous ensembles. He has won numerous awards, including The Australian String Association Award in 2022 for Most Outstanding Competitor at the Adelaide Eisteddfod, and was a finalist in the national Young Virtuoso Award Competition.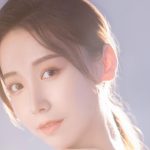 Yifei Chong, piano
 Robert Schumann (1810–1856)
Novelette in F-sharp minor, Op.21 No.8
ABOUT YIFEI
Yifei Chong, a Xinghai Conservatory of Music graduate with a piano performance major, studied with Dr. Vivian Li. Currently enrolled at the University of Adelaide, she is pursuing her studies under the guidance of Dr. Konstantin Shamray.
With a wealth of performance experience, Yifei Chong has been invited to showcase her talents at notable events such as the Guangzhou Cultural Industry Fair 2021. In 2022, she participated as a pianist in a candlelight concert, performing chamber music.
___
Guest Artist while judges deliberate
James Skelton, clarinet
Winner of Lunch Hour Series, Autumn, 2023.
___
Judges
Recitals Australia thanks the following judges for sparing their time to adjudicate the Lunch Hour Series Spring Final.
Chair: Helen Ayres, Recitals Australia.
Diana Harris OAM
Heidi von Bernewitz
Lynton Rivers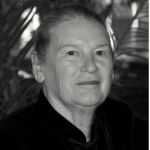 Diana Harris OAM
Before her recent retirement from public performance, Diana led an extremely active life in music as a collaborative pianist  and educator dedicated to training students for viable careers in music.  A lecturer, curriculum developer and piano teacher, she taught in a range of situations from  classroom to  Tertiary lecturing at the Adelaide CAE, Flinders Street School of Music and Elder Conservatorium as well as in her own studio.
Diana has collaborated with a range of classical musicians, local and visiting internationals, associated with  Adelaide Festivals and residencies  at Flinders Street, the Conservatorium as well as the Accompanists' Guild,  Recitals Australia and the Flute Society.
She has been an active contributor to several of Adelaide's musical societies  including ASKM/ Recitals Australia , the MTASA , A.M.E.B and Radio 5MBS , organising  early  national MBS Young Virtuoso Awards  and as a  broadcaster. Her most significant contribution to the professional futures of Collaborative Pianists was the formation of  the Accompanists' Guild of SA in 1983. The Guild celebrates its Ruby Anniversary this year ( 2023) and offers Australia's most significant Award  for collaborative pianists, the Geoffrey Parsons Award.
Acknowledgments of Diana's contribution to music include :  Adelaide  University Alumni's Diana Harris Prize for Accompaniment, Further Education Department's Gold Medal and  Australian Music Centre's Award for "Distinguished Contribution to the Advancement of Australian Music", Federal Government's Order of Australia and Centenary Medals, MTASA Council's Distinguished Service Award, Adelaide Critics' Circle 2016 Lifetime Achievement Award, 2023 induction to the SA Music Hall of Fame.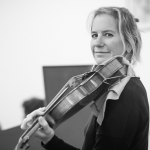 Heidi von Bernewitz
Originally from Washington DC and now in Adelaide, Heidi von Bernewitz plays the baroque viola.
Heidi has performed with the Halle, Pittsburgh and Baltimore Symphony Orchestras, the London Philharmonic, the English National Opera, the Sydney, Melbourne and Adelaide Symphony Orchestras, and the Australian Opera and Australian and Würtemburg Chamber Orchestras, at festivals including Glyndebourne, the London Proms, the Edinburgh Festival, Cabrillo, Aspen, Tanglewood, EMF, Schleswig Holstein Music Festival. St. Endellion, and the Rencontres Musicales Internationales des Graves, and as a historical performer with London Classical Opera, Modern Musick of Washington D.C. and regularly with Adelaide Baroque.   A graduate of Boston and Yale Universities, her teachers include Wolfram Christ, Michael Zaretsky, Atar Arad and Nabuko Imai. A frequent chamber musician, Heidi has performed solo recitals in the U.S., U.K., Scandinavia, and Australia, and recorded for Deutsche Grammaphon, Sony Classical, Telarc, EMI, Naxos, and ABC Classics.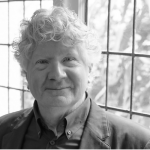 Lynton Rivers
Lynton initially began his Recorder studies at the University of Adelaide as part of a Music Degree. He furthered his studies in Amsterdam with Marion Verbruggen and in Vienna with Professor Hans Maria Kneihs as a recipient of an Australia Council Grant.  He has performed in UK, Sweden and China.
Until his retirement he taught with the Instrumental Music Service introducing students and class teachers to the recorder. He is chief recorder examiner for the AMEB in SA. He is also Patron of the Society of Recorder Players SA. Lynton is a founding member of Adelaide Baroque, Australia's oldest organisation dedicated to baroque performance practice. His recordings include 'Musica da Camera' and 'Passion' released by Adelaide Baroque.