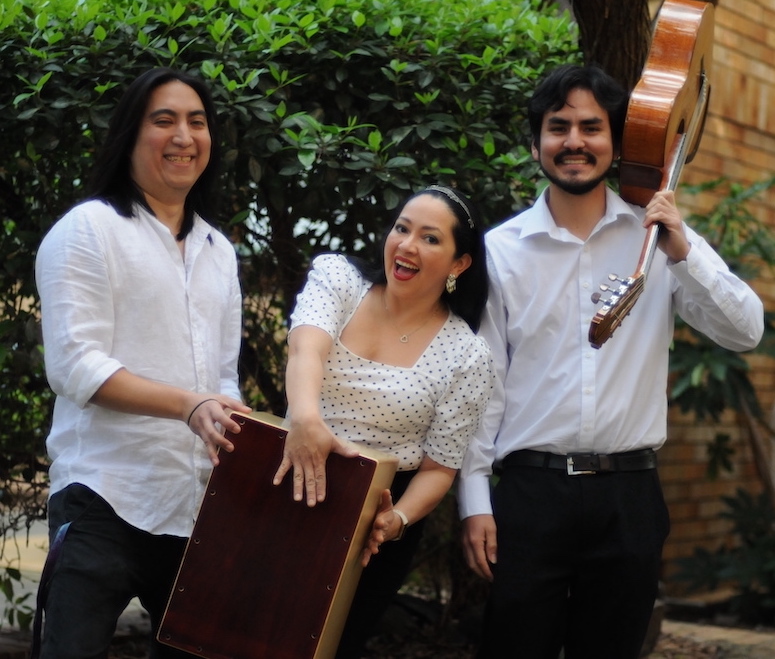 Recitals Australia Presents
Flinders Music Series, Oasis Room, Flinders University
Eduardo Ruiz, classical guitar
Juan Luis Gozalo, cajón
Nelcy Porras, voice
Program
Anonymous
Spanish Romance
Francisco Tárrega (1852–1909)
Adelita
Agustín Barrios (1885–1944)
La catedral
i. Preludio
ii. Andante Religioso
iii. Allegro Solemne
Heitor Villa-Lobos (1887–1959)
Etude No. 1 in E minor: Allegro non troppo
Etude No. 2 in A major: Allegro
Etude No. 3 in D major: Allegro moderato
Etude No. 4 in G major: Un peu modéré—Grandioso
Etude No. 5 in C major: Andantino—Poco meno
Etude No. 6 in E minor: Poco Allegro
Astor Piazzola (1921–1992)
Invierno Porteño
Peruvian pieces
The cinnamon flower
Smiles
This is how "Trujillanas" dance.
Peruvian traditional band
Contigo Peru (With you my Peru)
Three Peruvian Waltzes
Regresa (Come back)
Como una Rosa (Like a Rose)
Propiedad privada (My private property)
Raices de Festejo.
2'30" | 2'30" | 7'30" | 15' | 7' | 9' | 12'
About Jarana Criolla
Eduardo Ruiz, Juan Luis Gozalo and Nelcy Porras
"Jarana Criolla" means "Party with music from the Peruvian coast" and arises in order to preserve the Peruvian traditions in Australia. This genre is traditionally performed by the guitar and the cajón.
The cajón has its origins from the African slaves in Peru. They had been forbidden to make music with their instruments because they had a pagan origin so they began to use fruit baskets to play their music. These fruit baskets were slowly evolved into the cajón.
The guitar arrived in Peru in the 16th century and began as a small 4-string guitar that was used in the halls of the nobility and later became the guitar currently used in popular festivals. This music began to be popular in the year 1920 and remains the emblematic music of Peru today.
About the members of the band
Juan Luis Gozalo plays the cajón. He is from Venezuela and his parents are from Peru, and so he listened to traditional music from an early age. He graduated as a Media Professional at the Universidad de Los Andes and joined "Jarana Criolla". Juan looks forward to playing traditional music for as long as he can.
Nelcy Porras is a Colombian singer with 27 years of experience and specializes in solo and choral vocal techniques (in Spanish). She has been traveling the world and singing in places such as Bahrain, United Emirates, Qatar, Venezuela, Aruba, and Colombia. These countries have seen her perform in many languages, including Spanish, English, Portuguese, and Italian.
Eduardo Ruiz is a Peruvian classical guitar player. He moved to Adelaide in 2021 to take up studies at the Conservatorium at Adelaide University. He had the opportunity to perform in Government House as part of the celebrations of The Queen's Platinum Jubilee. Eduardo has also performed in a number of different events hosted by Recitals Australia