Recitals Australia Presents
Lunch Hour Series
Tynte Street, North Adelaide
Wednesday 12 October, 2022
at 12.30pm
for approximately 50 minutes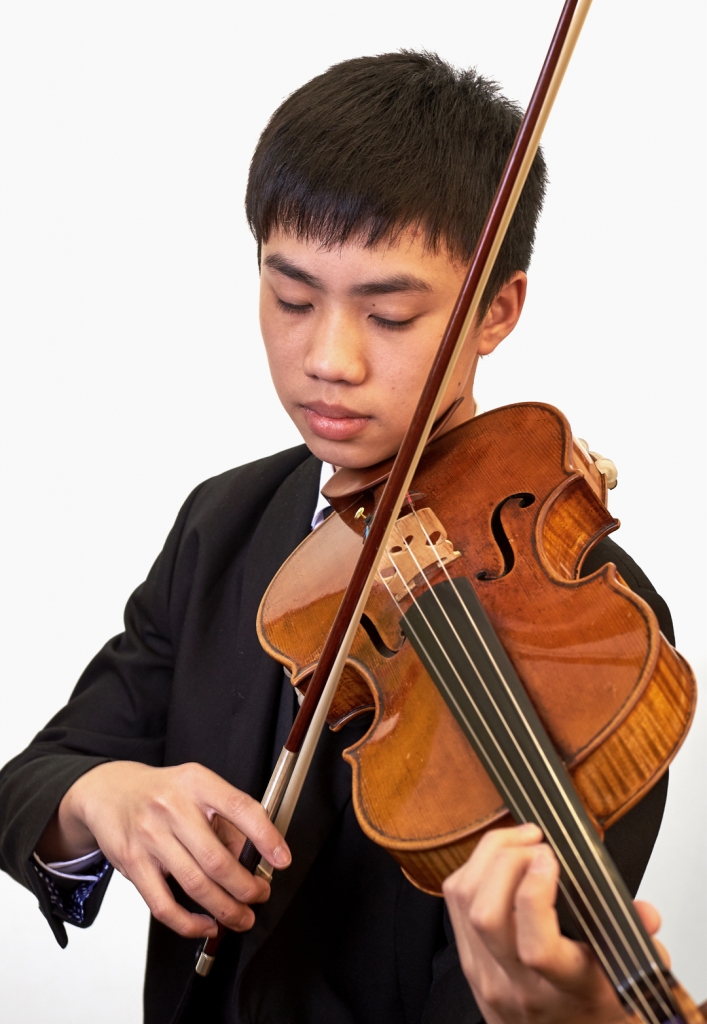 First Half: Tim Tran, viola
Program
Johann Sebastian Bach (1685–-1750)
Cello Suite No.3 in C major, BWV 1009
i. Prelude
ii. Allemande
iii. Courante
iv. Sarabande
v. Bourée I – Bourée II
vi. Gigue
Paul Hindemith (1895–1963)
Sonata for solo Viola, Op.25, No.1
15' | 15' 
ABOUT TIM
Tim Tran is an Adelaide-based violist. Up until 2020, he was studying at the Yehudi Menuhin School in England. Currently he is completing his Bachelor of Music (Classical Performance) at the Elder Conservatorium under the tutelage of Stephen King. Tim has been affiliated with numerous ensembles such as the Adelaide Youth Orchestra, Norwood Symphony Orchestra, and various other ensembles including string quartets and trios. Aside from playing viola, Tim also enjoys playing piano, teaching music, and reading.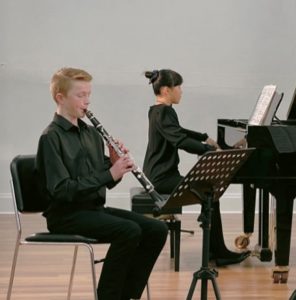 Second Half: JamSam Duo – Jamie Skelton, clarinet with Samantha Li, piano
Program
Francis Poulenc (1899–1963)
Sonata for Clarinet and Piano
i. Allegro tristamente
ii. Romanza
iii. Allegro con fuoco
Carl Maria von Weber (1786–1826)
Grand Duo Concertante for Clarinet and Piano, Op.48
i. Allegro con fuoco
ii. Andante con moto
iii. Rondo: allegro
13' | 17'
ABOUT JAMES
James studies the piano with Monika Laczofy OAM and the clarinet with Darren and Louise Skelton. In 2019, James performed with an International Youth Orchestra in London's Royal Festival Hall. He has been a member of the Adelaide Youth Orchestra (AdYO) and the 2022 Australian Youth Orchestra "Young Symphonists". James won the Gabor Reeves Woodwind Medallion for his performances in the 2021 Adelaide Eisteddfod, and an Honourable Mention for his piano recital at the 2021 Miriam Hyde Junior Award. He is the winner of the 2022 Metropolitan Male Choir Scholarship. James is currently working towards his AMusA diploma examinations on both piano and clarinet.
ABOUT SAMANTHA
Samantha studies the piano with Monika Laczofy OAM and violin with Keith Crellin OAM. In 2019 she completed her AMusA diploma in piano aged only ten years of age. She won third prize for violin in the 25yrs and under Any String Player Solo at the 2021 Adelaide Eisteddfod. Samantha won the Berenice Harrison Award in the Recitals Australia Autumn Series, and is the youngest winner to date. In 2020, she was awarded the 'Jewels Stevens Scholarship' by the Elder Conservatorium. In 2021, Samantha won the Miriam Hyde Open Award and the Melbourne Recital Centre Bach Competition Young Bach Scholar Award. She has also performed the Mozart Piano Concerto for the Male metropolitan Choir of SA and was awarded the Sieben-Scott Prize. Samantha's latest achievement is the Licentiate Diploma Award with Distinction.