Recitals Australia Presents
ReClassified Concert 2 at the Z Ward, Conyngham Street, Glenside
Sunday 13 November at 2:30pm
Works for flutes and clarinets
Approximately 60 minutes

Tickets $25 Purchase Tickets

Featuring all new compositions by Aaron Pelle, Rachel Bruerville, Hannah Wilkinson, David John Lang, Martin Cheney, and Anne Cawrse.

Performed by:
Melanie Walters, flute.
Dean Newcomb, clarinet.
Mitch Berick, bass clarinet.
About the ReClassified Festival
ReClassified is about reflecting and celebrating the living, breathing, classical music makers in our city. It demonstrates that we are relevant, skilled, enthusiastic, and knowledgeable about our craft, and eager to share our creations with the wider community and the world. It provides mentorship and professional experience for emerging composers, and demonstrates that composers living today are as vital and relevant as those that lived in centuries gone past.
Thank you for staying curious, for wanting to learn more about what we do and why we do it, and for supporting us with your presence here today.
Anne Cawrse
2022 Prelude Composer Resident & ReClassified Director
---
Program of performance
Aaron Pelle Shards of Glass (for flute, clarinet, and bass clarinet)
Rachel Bruerville  Song of the Wombat  (for bass clarinet)
Rachel Bruerville  Love's Philosophy  (for alto flute)
Hannah Wilkinson Ghost Music (for bass/alto flute, clarinet, and bass clarinet)
David John Lang Three Passion Meditations (for alto flute, clarinet, and bass clarinet)
Anne Cawrse Ruby (for clarinet)
Martin Cheney Fancy Panic (for flute, clarinet, bass clarinet)
---
Program note for Shards of Glass
Shards of Glass is a three-movement suite for flute, clarinet, and bass clarinet. The title refers to the shattering of glass that can occur when dealing with certain individuals with extreme mental health problems, especially in the shower or car. The performance space of the Glenside Mental Hospital is very relevant to me, as it is a site where my grandmother used to work, herself a daughter of a World War II veteran who suffered from PTSD. The music aims to express a character of inner peace to those who battle mental health problems, although not without undertones of darkness.
Program note for Song of the Wombat
Song of the Wombat was initially commissioned in 2020 by Deborah Shnookal, but was not able to be premiered until November 2021 due to the COVID-19 pandemic. It was originally written for solo bassoon and premiered in Victoria by Jack Schiller (principal bassoon, Melbourne Symphony Orchestra). The commission was for a fundraising concert for the Central Victorian Wildlife Hospital, and dedicated to Momo the wombat, who has since been happily released back into the wild! 
I think that Jack describes the piece very well: 
Song of the Wombat sort of depicts a day in the life of a wombat. The day begins, and he [Momo] is snoozing away, dreaming about things. Then he wakes up and starts to search for a burrow. Then he falls back to sleep again, snores for a while, and then Rachel has a direction to play the next section 'a bit jazzy', so in my imagination, he's getting dressed, getting ready for his day to go out, putting his top hat on… and the last section of the piece is another burrowing section in which it's a bit more frenetic, and then he just disappears down the burrow.
Program Note for Love's Philosophy
This version of Love's Philosophy for solo alto flute combines an existing song for soprano that I wrote in 2013 with elements of the original piano and concert flute parts. It began as a setting of the poem of the same name by Percy Bysshe Shelley:  
The fountains mingle with the river
   And the rivers with the ocean,
The winds of heaven mix for ever
   With a sweet emotion;
Nothing in the world is single;
   All things by a law divine
In one another's being mingle.
   Why not I with thine?—
See the mountains kiss high heaven
   And the waves clasp one another;
No sister-flower would be forgiven
   If it disdained its brother;
And the sunlight clasps the earth
   And the moonbeams kiss the sea:
What are all these kissings worth
   If thou kiss not me?
Program Note for Ghost Music
Despite having my own scepticism about ghosts and the afterlife, I have always thought that certain places have an unexplainable connection between people who once lived their lives there, and the people who come to visit. When I came to visit Z-Ward, I felt that connection quite strongly, and it is all too easy to imagine the horror of living there- being told that the way your brain works is too dangerous for you to lead a normal like. This piece titled simply 'Ghost Music is my attempt to capture the connection between the people who lived here, and us- their future guests. The work is an eerie exploration of tone colour, space, and texture which features the bass flute to blend into the range and tone of the clarinets. It was composed using Messiaen's third mode of limited transposition, which in combination with several extended instrumental techniques such as whistle tones and multiphonics, creates a sound world which should feel supernatural.
Program Note for Three Passion Meditations
The walls of Z Ward have enclosed a lot of hidden human suffering in their time. In reflecting on this, and on our feeble and ever-failing attempts to overcome such darkness, I was led to remember the Cross of Christ. This is where Christians believe that in Jesus – "a man of sorrows, and acquainted with grief" – God met not just the sin but the suffering of the world head on, and overcame it by suffering it himself. 
These are three musical interludes that I originally sketched out to play on the piano at a Good Friday service, where they were interwoven with a dramatization of the Passion narrative. I have re-written them as three short meditations for alto flute, clarinet, and bass clarinet, especially for this performance in Z Ward.
"Surely he has borne our griefs and carried our sorrows" (Isaiah 53:4).
Program Note for Ruby
Commissioned by the Australian National Academy of Music (ANAM) as part of The ANAM Set (2021) and written for Clare Fox
'Ruby' for solo clarinet was inspired by a person who was special in the life of the performer, and who passed away in tragic circumstances in early 2021. The aim of the piece is to capture and express her unique character, and the way that she brought pleasure and happiness to all who knew her. The piece also draws inspiration from her artwork, in particular, images of the unique and beautiful Blue Mountains area in which she lived.
Program Note for Fancy Panic
I have a long-held fascination with the artistic concept of juxtaposing two apparently conflicting ideas. I first explored this back in 2019 when I curated a music theatre song cycle, Bitter. Sweet., in which we performed songs where the music and the meaning of the lyrics seem to disagree. In Fancy Panic, I explore the same kind of dichotomy — one in which the dots on the page amount to a sense of dissonance and anxiety, but are ultimately performed with a cheeky playfulness that almost amounts to a superficial denial of these emotions. And what better place to experience these jarring moods than in an asylum!
I wish I had a deeper explanation for the piece's title, but the truth is that they were my final two words in a previous Wordle solution, and I thought they made an intriguing pair that perfectly summarised the piece's aesthetic.
---
ABOUT AARON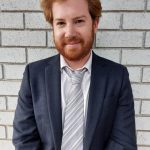 Aaron Pelle is an award-winning Australian composer whose music has been performed by such renowned artists as the Australian String Quartet, the Australian Youth Orchestra, the Elder Conservatorium Symphony and Chamber Orchestras, Konstantin Shamray, Elizabeth Layton, Luke Dollman, and Carlo Antonioli. He is currently writing a chamber opera to be performed in Lucca, Italy in 2023 as part of the Puccini Chamber Opera Festival and is undertaking a PhD under the supervision of Professors Graeme Koehne and Charles Bodman Rae.
ABOUT RACHEL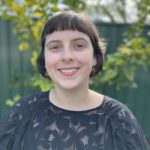 Rachel Bruerville (b. 1991) is an Australian composer, arranger, cellist, singer, and writer, who proudly calls Adelaide her home. Represented by the Australian Music Centre, she has held the position of Young Adelaide Voices' 2019/20 Composer in Residence, supported by a 2019 Carclew Fellowship.
Composition highlights include Milli, Jack and the Dancing Cat for the Adelaide Symphony Orchestra (2021), Mirror mirror for Young Adelaide Voices at the Gondwana World Choral Festival (2019), and Dancing on Tiptoes for The Hush Foundation (2018).
ABOUT HANNAH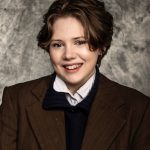 Hannah Wilkinson is a second-year composition and film studies student at the University of Adelaide. She plays and teaches piano and participates in the Elder Conservatorium Wind Orchestra playing clarinet. During her two years at Uni, she has been afforded the opportunity to write works for the Elder Conservatorium Wind Orchestra, and the Elder Conservatorium Symphony Orchestra. Hannah has a strong background in filmmaking, and has always considered herself- first and foremost, a storyteller. Her music attempts to capture these stories and allow the listener to create their own stories as they experience the music.  Hannah's ultimate dream is to direct and score her own films and to enjoy a game of Dungeons and Dragons somewhere in a forest, with her friends and cat Jenkins.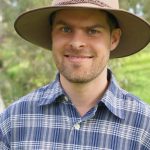 ABOUT DAVID
David John Lang is an Australian composer living in Adelaide. His music often reflects his love of the outdoors, his Christian faith, and his whimsical sense of humour. Recent projects include an album of musical portraits for piano, a fanfare for the Sydney Symphony Orchestra and a musical depiction of Tasmania's Overland Track for the Adelaide Wind Orchestra.
In addition to composing, David works as a writer (about music) and conductor. He also performs (trumpet, keyboard, and vocals) with the Music is Fun Band. David holds a PhD in Music Composition from the Elder Conservatorium.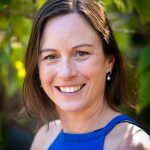 ABOUT ANNE
Anne Cawrse is an award-winning composer of orchestral, chamber, solo and choral works. Her music is described as 'beguilingly beautiful' and 'profoundly telling', and she has been commissioned by many of Australia's leading orchestras, ensembles, and soloists, including the Adelaide and Melbourne Symphony Orchestras, the Australian String Quartet, and Adelaide Chamber Singers.
ABOUT MARTIN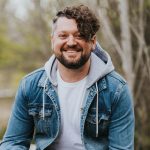 Martin is a composer, music theatre lecturer, repetiteur, pit orchestra pianist, music director, and writer. He graduated from the Elder Conservatorium with First Class Honours in Music Education (Most Outstanding Graduate, 2009) and is currently awaiting the final examination of his thesis for a PhD in Composition. Martin joined the teaching staff of the Bachelor of Music Theatre in 2020.
Martin is (until now!) primarily a composer of wind orchestra and choral works. He co-founded the Adelaide Wind Orchestra in 2012 which has attracted high-profile guest artists including internationally renowned conductor and clinician Dr John Lynch. AWO has performed and recorded a number of Martin's pieces, including Auguries of Innocence (with the Graduate Singers) in 2019, and the World Premiere of Tangent: symphony for wind orchestra in 2021. He is represented in Australia by Matt Klohs Music and internationally by Murphy Music Press, LLC. Martin is also a published Arts writer and critic who publishes on his own website, Sharp Four Reviews, has by-lines at the Australian online film magazine FilmInk, and recently began contributing for CutCommon.