Recitals Australia Presents
Lunch Hour Series
Tynte Street, North Adelaide
Wednesday 13 September, 2023
at 12.30pm
for approximately 42 minutes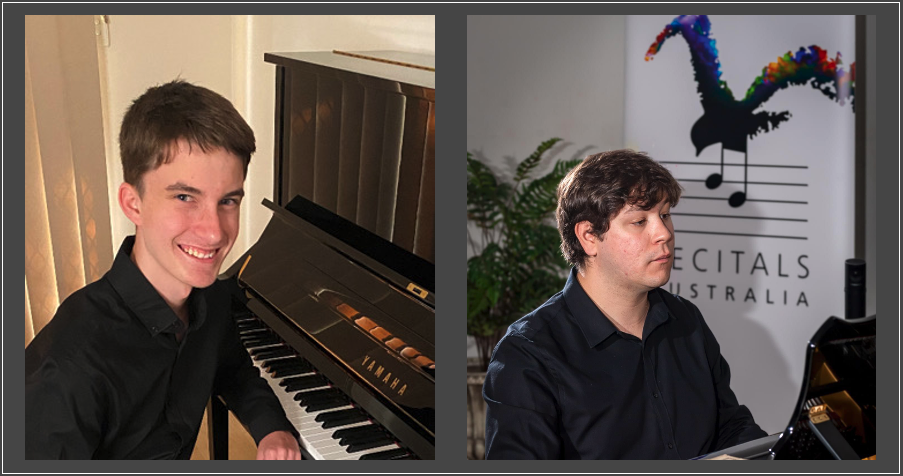 Program
Wolfgang Amadeus Mozart (1756–1791)
Fantasia No.3 in D minor, K.397/385g

Frédéric Chopin (1810-1849)
Waltz Op.34 No.3 in F major

Franz Liszt (1811-1886)
Consolation S.172 No.3 in D-flat major

Claude Debussy (1862-1918) 
"Doctor Gradus ad Parnassum", No.1 from "Children's Corner", L.113

Frédéric Chopin (1810-1849)
Ballade No.3 Op.47 in A-flat major

Ludwig van Beethoven (1770 – 1827)
Piano Concerto No.3 in C minor
i. Allegro con brio

George Gershwin (1898–1937)
Prelude No.1 in B-flat major
5'30" | 2'30" | 5' | 2'40" | 8' | 12'30" | 1' 30" |
ABOUT JOSHUA
Joshua started playing the piano at age 10 under Deborah Handley at Woodend Primary. Within two years, Joshua had already learned piano pieces by Mozart, Beethoven and Chopin, and performed them at school assemblies. Supported by the school's music director, Jarrod Lamshed, Joshua successfully auditioned for a solo performance debut at the Adelaide Festival Centre. 
Highlights of Joshua's piano journey include two masterclasses with Konstantin Shamray, prizes in the Adelaide Eisteddfods and solo recitals at Hopgood theatre and Yankalilla. Joshua currently studies under the tutelage of Simón Pazos Quintana and he aspires to become a concert pianist in the future.
ABOUT SIMÓN
Simón Pazos Quintana is a classical pianist, accompanist and teacher. He obtained his Bachelor of Music with First Class Honours at the Elder Conservatorium of Music in Adelaide, under the tutelage of Professor Stefan Ammer. In 2018, Simón was the recipient of the Peter Schodde Memorial Piano Scholarship, and was a finalist in both the 2019 and 2021 Geoffrey Parsons Award for piano accompaniment. Simón performed alongside William Hennessy AM and the Adelaide Hills Chamber Players as part of their 2023 Summer Season concerts. He is currently completing his PhD, centred around the works for solo piano by Aleksandr Mosolov.