Recitals Australia Presents
Lunch Hour Series
Tynte Street, North Adelaide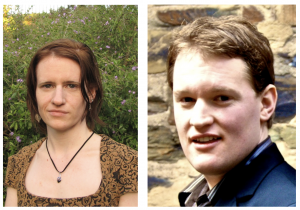 Sarah Downs, voice
Thomas Saunders, piano
Wednesday 14 June, 2023
at 12.30pm
for approximately 50 minutes
Program

Graeme Koehne AO (b. 1956)
Three poems of Byron
1. Stanzas for Music
2. To Woman
3. She Walks in Beauty
 
Betty Beath (b. 1932)
In This Garden (A cycle of five songs)
1. Worm
2. Snail
3. Spider
4. Butterflies
5. Sparrow
 
Calvin Bowman (b. 1972)
Three Night Songs
1. Silver
2. Solitude
3. The Ride-By-Nights
 
Selected Songs:
Fresh Fields 
The Swing
Song for Silverheels
 
10' | 7' | 7' | 4'
About Sarah
Sarah Downs has been singing since 2005. After beginning a Bachelor of Music (Music Composition) at the Elder Conservatorium, she transferred to a Bachelor of Arts and graduated with a major in Italian and minors in German and Linguistics. Sarah has continued classical singing under the tutelage of Stella Panozzo and attained the Associate Diploma in 2019. Sarah has previously sung with the Conservatorium's Bella Voce Choir, St. Francis Xavier Cathedral Choir, and Adelaide Philharmonia Chorus. In her free time Sarah likes to surround herself with music by producing and presenting "Arts Diary" for Radio 5MBS, and by writing music.
About Thomas
Thomas holds an honours performance degree in classical piano and a graduate certificate in music teaching from the Elder Conservatorium. He has attended summer schools in France with Jean-Paul Sevilla (classical) and in Melbourne with Joe Chindamo (jazz). At the 2018 Adelaide Fringe he performed The Rite of Spring arranged for two pianos and in 2015 he was accompanist for twelve sell-out performances of Call Mr Robeson featuring the music of Paul Robeson. He has also premiered his original pieces featuring two pianos and clarinets at the Adelaide and Melbourne Fringes. He has performed in the presence of HRH Duke of Kent for the gala opening of the Royal Institution of Australia (RiAus) and has been guest artist for a science/music presentation with the popular science commentator Dr Karl Kruszelnicki. Thomas is a busy instrumental teacher, accompanist for university recitals and the Metropolitan Male Choir SA, as well as an AMEB examiner.
Buy Tickets
Tickets for each recital concert are $10 per person, or you can consider a full-year subscription for only $200. The subscription includes all Lunch Hour Series recitals for the year, the Finals, all guest recitals and the mid-year lunch recitals held at the North Adelaide Baptist Church Hall.