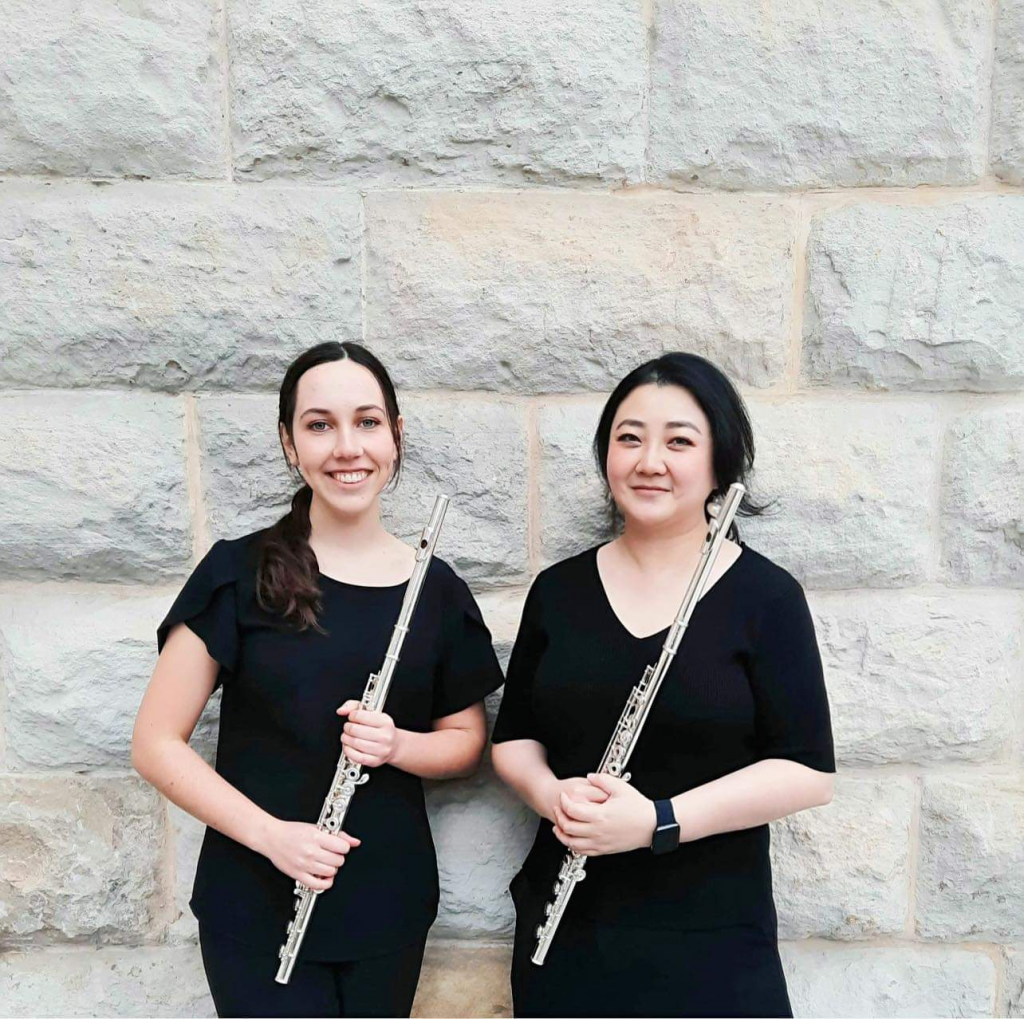 Recitals Australia Presents
Lunch Hour Series
Tynte Street, North Adelaide
Gemma Vice, flute
Amelia Wang, flute
Jamie Cock, piano
Wednesday 14 September, 2022
at 12.30pm
for approximately 50 minutes
Program
Ross Edwards (1943)
Ecstatic Dances, I, II
Robert Muczynski (1929-2010)
Duos for flutes op.34
i Andante sostenuto
ii Allegro risoluto
iii Moderato
iv Allegro ma non troppo
v Andante molto
vi Allegro
Carl Philipp Emanuel Bach (1714-1788)
Hamburger Sonata in G major
i Allegretto
ii Rondo: Presto
Philippe Gaubert (1879-1941)
Fantaisie pour flute et piano
Henri Dutilleux (1916- 2013)
Sonatine for flute and piano
Karl Doppler (1825-1900), Franz Doppler (1821-1883)
Rigoletto Fantasie Op. 3
8' | 8' | 9' | 7' | 9' | 10' |
ABOUT GEMMA
Gemma Vice started flute at aged 10 in 2012. She is currently a flute performance student in her third-year studies at the Elder Conservatorium, taught by Elizabeth Koch AM, and, recently, Kathryn Moorhead. Gemma has completed all AMEB grades from 1- certificate of performance, receiving a high distinction in her most recent exam (2021). She is an active member of the Adelaide Youth Orchestra and Elder Conservatorium Symphony. She has also performed as a soloist for the Flinders Street Baptist church concerts (2021), and in the AMEB showcase (2018). In 2021 she was awarded the Victor Edgele Scholarship for woodwind.
ABOUT AMELIA
Amelia Wang is from a family with music background. Amelia has completed her Bachelor of Music (Honours) Classical Performance in 2022 at Elder Conservatorium with Associated Professor Elizabeth Koch OAM. Amelia has been awarded AMEB LMusA in 2020 and she has held first flute and piccolo positions with Elder Conservatorium Wind Orchestra and Elder Conservatorium Symphony Orchestra and she's had her piccolo concerto debut with the Elder Conservatorium Wind Orchestra in 2021.
Amelia is now working towards a professional orchestral position and she is a casual player at the ASO.
ABOUT JAMIE
Jamie completed an Honours Degree at the Elder Conservatorium under Noreen Stokes and Stefan Ammer before further study at the Martinů Academy in Prague and the Musikhochschule Freiburg. Winner of the Geoffrey Parsons Award and the Mendelssohn Competition in Berlin, Jamie has presented concerts in Australia, New Zealand, the UK, the US, and throughout Europe. An established and experienced chamber musician, accompanist, teacher, instrumental and vocal coach, Jamie has performed with the Adelaide and Sydney Symphony Orchestras. He has also appeared in the Elder Hall Lunch Hour and Perspectives series, the Adelaide Festival of Arts, Melbourne and Adelaide Fringe Festivals, and has given live national broadcasts and made recordings for ABC Classic FM, Southwest Radio Germany and in collaboration with the State Opera of South Australia, the Adelaide Chamber Singers, The Firm, and the State Theatre Company of South Australia.