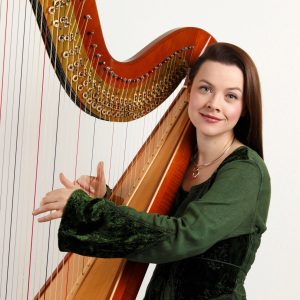 Recitals Australia presents
Emma Horwood, pedal harp and voice
15 August 2022, Oasis Room, Flinders University
Program
Robert Johnson (1583 – 1633)
Have you seen but a white lily grow?
Anon. Arr. Emma Horwood
Greensleeves
Mateo Fletcher the Elder (1481 – 1553)
Riu, Riu Chiu
Deborah Henson-Conant (1953 – )
Baroque Flamenco
Trad. Irish, Arr. Emma Horwood
Blacksmith
Trad. Irish, Arr. Emma Horwood
The Young Man's Dream/Danny Boy
Trad. Irish, Arr. Claire Roche
The Robin's Jaunt/The Lilting Banshee T
Marcel Tournier (1879-1951)
La Lettre du Jardinier (The Gardener's Letter)
Maurice Ravel (1879 – 1937)
Trois Beaux Oiseaux du Paradis (Three Lovely Birds from Paradise)
Léo Delibes (1836-1891)
The Flower Duet (from Lakme)
Reynaldo Hahn (1874-1947)
L'heure Exquise (Exquisite Hour)
Jacques Offenbach (1819-1880)
Barcarolle (from The Tales of Hoffman)
Carlos Salzedo (1885 – 1961)
Chanson dans la nuit (Song in the Night)
Trad. Irish, Arr. Emma Horwood
The Parting Glass
Program run time approx 1 hr.
About Emma
Emma is a music graduate of the Elder Conservatorium at the University of Adelaide and one of the city's most popular and respected soprano and harpists, known for her purity of tone, versatility and engaging stage presence. Emma has been a core member and soloist with the award-winning Adelaide Chamber Singers since 2000, touring with them internationally and performing at the Adelaide Festival, Coriole, Port Fairy and Huntington Estate Music Festivals, at WOMAD and with the Rolling Stones. Emma presents frequent solo recitals to critical acclaim and has performed at The Lab, in the Elder Lunch Hour, Flinders University and Urrbrae House concert series, for The Firm and with Adelaide Baroque. Emma loves singing in a wide variety of styles but is most passionate about early music and Celtic music. She was vocal soloist in the Celtic Illusion show in Adelaide and Canberra in 20221/2022, is co-director of the SA Celtic Harp Orchestra and member of Duo Celtica with Christine Morphett. A specialist in the art of accompanying her singing on harp, Emma performs regularly as harpist and vocalist at weddings, funerals, corporate functions, recitals and festivals, including sell-out shows in the Adelaide Fringe. She also collaborates as harp/voice/ percussion duo with her husband, Adelaide Symphony Orchestra Principal Percussionist Steve Peterka. Emma is a founding member of female vocal trio Eve, with whom she performed live on ABC Classic FM and presented concerts as part of the Musica Viva in Schools programme, and a member of vocal quintet Syntony. Emma also enjoys private teaching and choral conducting and has recorded five solo CD's, all featured on ABC Classic FM.