Recitals Australia Presents
Junior Series
Tynte Street, North Adelaide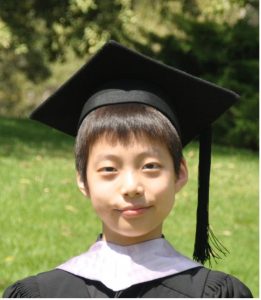 Wednesday 19 October, 2022
at 12.30pm
for approximately 50 minutes
First Half: Jonathan Wong, piano
Program
Robert Schumann (1810–1856)
Fantasiestücke, Op. 12
Des Abends (In the Evening)
Aufschwung (Soaring)
Warum? (Why?)
Grillen (Whims)
In der Nacht (In the Night)
Fabel (Fable)
Traumes Wirren (Dream's Confusions)
Ende vom Lied( End of the Song)
ABOUT JONATHAN
Jonathan Wong is eleven years old and he studies piano with Monika Laczofy OAM. Jonathan achieved his AMusA Diploma in piano in 2021. Jonathan has won numerous first prizes in the Adelaide Eisteddfod, including the winner of The Dulcie Holland Medallion Award and The Lady Anne Miller Award in 2021. Jonathan also won the Norman Sellick first prize in 2020 and 2nd Prize in the Miriam Hyde Junior Award in 2021. In both 2021 and 2022 Jonathan was awarded the University of Adelaide Elder Conservatorium's Ethel Cooper Scholarship for his piano studies. Jonathan won second prize in the 2021 Piano Star International Competition, first prize in the Rising Talents International Competition in 2022, and second prize in the Best Schumann International Competition. Jonathan also learns violin, flute and singing. He loves music and wishes to become a professional musician in the future.
Second Half: Ruby Lee, violin with Simón Pazos Quintana, piano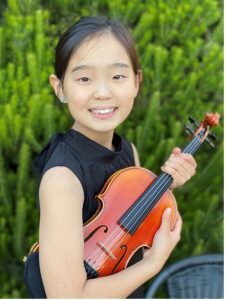 Program
Johann Sebastian Bach (1685–1750)
Partita in E major, BWV 1006
III. Gavotte en Rondeaux
IV. Minuet I and Minuet II
V. Bourree
Ottokar Nováček (1866–1900)
Moto Perpetuo in D minor
Dmitry Kabalevsky (1904–1987)
Violin Concerto in C major, Op. 48
I. Allegro molto e con brio
II. Andantino cantabile
Fritz Kreisler (1875–1962)
Praeludium and Allegro (in the style of Pugnani)
ABOUT RUBY
Ruby started her music journey as a pianist when she was four years old, but changed to violin when she was six. She is studying violin with Keith Crelllin OAM and says has been inspired by many violinist, especially Hillary Hahn and Maxim Vengerov. Ruby has been enjoying playing in the Adelaide Youth Orchestra since 2019 and has won the multiple awards at the Adelaide Eisteddfod. Ruby achieved AMEB Violin grade 8 with High Distinction, and is currently preparing for the AMEB Certificate of Performance examination.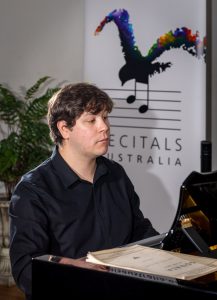 ABOUT SIMÓN
Simón obtained his Bachelor of Music with First Class Honours at the Elder Conservatorium of Music under the tutelage of Stefan Ammer. In May 2018, he performed Beethoven's Piano Concerto No.5 ("Emperor") with the Elder Conservatorium Symphony Orchestra under the baton of maestro James Lowe. Later that year he was awarded the 2018 Peter Schodde Memorial Piano Scholarship, which facilitated him travelling to Germany, Austria and England, and playing for highly respected professors and performers to further his technical abilities and musicianship.