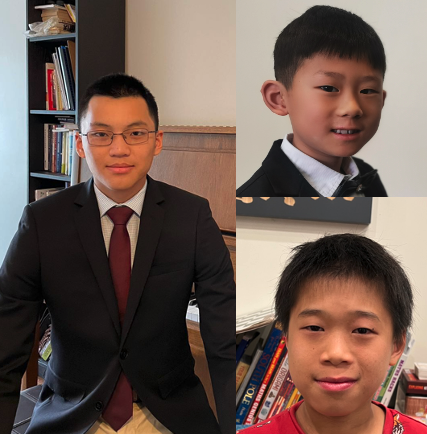 Program
12.30pm
Bruce Jian, piano and
Anthony Tan, piano with Yong Cheong Lye, piano
Anthony Tan:
Wolfgang Amadeus Mozart (1756–1791)
Piano Sonata No.12 in F major, K.332
III Allegro
Bruce Jian:
Franz Schubert (1797–1828)
Impromptu Op.90 No.3 in G Flat major
Bruce Jian:
Claude Debussy (1862-1918)
Suite Bergamasque L.75
I Prelude
Anthony Tan, with Yong Cheong Lye, piano:
Wolfgang Amadeus Mozart (1756–1791)
Piano Concerto No. 21 in C, K.467
II Andante
6' | 6' | 6' | 7' |
ABOUT BRUCE
Bruce Jian is currently a Year 10 student at Glenunga International High School and began learning the piano in Year 3. He passed the AMEB Certificate of Performance earlier this year and is currently preparing for his AmusA examination next year under the tutelage of Yong Cheong Lye and Dr. Debra Andreacchio. Furthermore, he has participated in school ensembles throughout his high school career. During Bruce's piano music career, he has regularly participated in several music competitions. While participating in the Adelaide Eisteddfod, Bruce received multiple prizes, including third place in 2 contrasting pieces 14 and under. Bruce is fascinated by all kinds of music, regardless of its era or composer, and his wish is to reach greater heights in music.
ABOUT ANTHONY
Anthony Tan is a Year 2 student at Immanuel Primary School. He began learning the piano at the age of 5 under the tutelage of Yong Cheong Lye. Currently, he is studying advanced repertoires and preparing for his AMEB Grade 8 examination next year.
Anthony also plays the cello. In 2023, Anthony received several prizes in the Adelaide Eisteddfod in Piano and String Division. He was granted exceptional admission to the Soh Sharp Orchestra at Immanuel Primary School. He thoroughly enjoys orchestra rehearsals and showcase performances. His aspiration is to become a professional musician in the future.
ABOUT YONG CHEONG LYE
Yong Cheong Lye, from Malaysia, lives for music and is a passionately engaged studio piano teacher. His never-ending musical journey led him to complete his Master of Music Degree at the Elder Conservatorium of Music, specialising in Piano Performance and Pedagogy. He has taught piano in several primary schools and colleges.
In 2020 he established Rondo Music School at Stepney, and enjoys teaching there, as well as encouraging other teachers and the students within his school in their musical journey. He is currently receiving piano lessons from Dr. Debra Andreacchio and distinguished pedagogue Eleonora Sivan. Notably, his students have regularly won prizes in the competitions, received AMEB Special Awards and achieved music scholarships to private school and college.
1pm
Tao Wong, violin with Simón Pazon Quintana, piano
Joseph Haydn (1732-1809)
Violin Concerto Hob VIIa:4
I Allegro moderato
Johannes Brahms (1833–1897)
21 Hungarian dances WoO 1
Hungarian dance, No. 2
Josef Suk (1874 – 1935)
Four Pieces for Violin and Piano Op.17
II Appassionato
Felix Mendelssohn (1809 – 1847)
Violin Concerto Op.64
II Andante
8' | 2'30" | 5' | 7' |
ABOUT TAO
Tao learns to play the violin under the guidance of Wendy Heiligenberg. He is 12 years old, goes to St Peter's College and is enjoying middle school life.
Other than the violin, Tao enjoys playing on the piano and various percussion instruments, especially the vibraphone.
ABOUT SIMÓN
Simón Pazos Quintana is a classical pianist, accompanist, and teacher. He obtained his Bachelor of Music with First Class Honours at the Elder Conservatorium of Music under the tutelage of Professor Stefan Ammer. In 2018, Simón was the recipient of the Peter Schodde Memorial Piano Scholarship, and was a finalist in both the 2019 and 2021 Geoffrey Parsons Award for piano accompaniment. Simón performed alongside William Hennessy AM and the Adelaide Hills Chamber Players as part of their 2023 Summer Season concerts. He is currently completing his PhD, centred around the works for solo piano by Aleksandr Mosolov.