Recitals Australia Presents
Lunch Hour Series
Tynte Street, North Adelaide
AdYO String Quartets
Wednesday 28 June, 2023
at 12.30pm
for approximately 50 minutes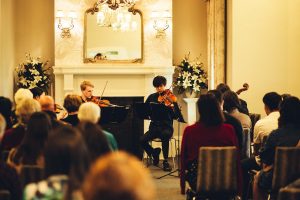 Program
Pernambuco String Quartet

Wolfgang Amadeus Mozart (1756–1791)
String Quartet No.19 in C major, K.465 ("Dissonance")
i.  Adagio – Allegro

Felix Mendelssohn (1809–1847)
String Quartet No.4 in E Minor, Op.44, No.2
i.  Allegro assai appassionato 
ii.  Scherzo: Allegro di molto

9' | 14'

Mahogany String Quartet

Joseph Haydn (1732–1809)
String Quartet in G Minor, Op.20 No.3
i. Poco Adagio
ii. Allegro di molto

Alexander Borodin (1833–1887)
String Quartet No.2 in D major 
i. Allegro moderato
iii. Notturno

19' | 17'
About the AdYO Strings Quartets
Consisting of some of South Australia's brightest young emerging musicians, the Adelaide Youth Orchestra String Quartets will bring you two performances. The first is by the Pernambuco String Quartet featuring Adina Lopez, Luca Shin, Tahlia Brennan and Rafael Velasco. The second performance is by the Mahogany String Quartet featuring Jude Owens-Fleetwood, Victoria Phan, Oliver Brown and Jasmin Baker.
For more details, please visit https://adyo.com.au
Buy Tickets
Tickets for each recital concert are $10 per person, or you can consider a full-year subscription for only $200. The subscription includes all Lunch Hour Series recitals for the year, the Finals, all guest recitals and the mid-year lunch recitals held at the North Adelaide Baptist Church Hall.