Recitals Australia Presents
Lunch Hour Series
Tynte Street, North Adelaide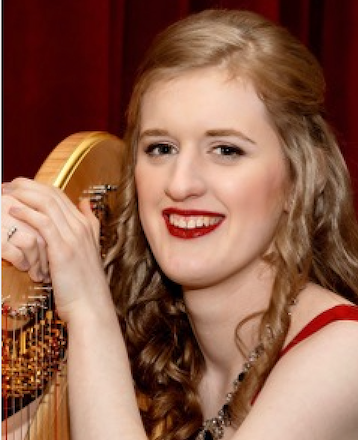 Philippa McAuliffe, harp with James Huon George, piano
Nicky Poznak, piano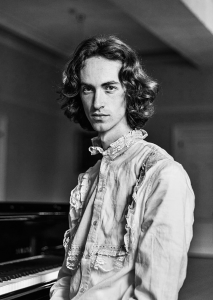 Wednesday 31 May, 2023
at 12.30pm
for approximately 50 minutes
Program
Philippa McAuliffe with James Huon Program

Domenico Scarlatti (1685–1757)
Sonata in A major K113

Henriette Renié (1886–1955)
Pièce symphonique en trois épisodes
i. Marche funèbre (Funeral march)
ii. Appassionato
iii. "La pensée des espérances futures, ne détruit pas la douleur, elle la transfigure" ("The thought of future hopes does not annihilate pain, it transfigures it…")

Maria Castelnuovo – Tedesco (1895–1968)
Concertino for Harp and Chamber Orchestra, Op. 93
i. Moderato (Quasi passacaglia)

Enrique Granados (1867–1916) arr. Carlos Salzedo (1885–1961)
Spanish Dance No. 5 "Andaluza"

4' | 10' | 8' | 4'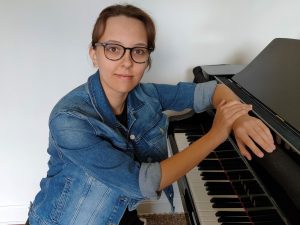 Nicky Poznak Program
Robert Schumann (1810–1856)
Carnaval Op. 9 "Scènes mignonnes sur quatre notes" ("Little Scenes on Four Notes")

30'
About Philippa
Philippa recently graduated from the Elder Conservatorium with first class honours. She holds many scholarships and awards, has been the principal harpist of the Australian Youth Orchestra, and plays casually for the Adelaide Symphony Orchestra. She has performed concertos with the Norwood Symphony Orchestra and the Conservatorium Orchestra, played in the Coriole Chamber Music Festival, live streamed many times for Recitals Australia, and was honoured to be nominated for the 2021 National Freedman Fellowship.

A Helpmann grant provided Philippa with online masterclasses to prepare for the 2021 triennial Israel International Harp Competition, but unfortunately travel proved impossible. She quickly turned her attention to orchestral studies, and recently reached the final round in the Sydney Symphony principal auditions. Further Helpmann support is currently enabling Philippa to further her interest in historical harp performance. Philippa is also an accomplished pianist, teaches piano and harp, and enjoys writing program notes professionally.
About James
James Huon George was born and raised in Adelaide, and is now currently undertaking a Master of Music (Performance Studies) at the Elder Conservatorium under the tutelage of Lucinda Collins, having previously completed undergraduate study under Stefan Ammer and Konstantin Shamray. James has performed widely in Adelaide, and has been broadcast numerous times on Radio 5MBS. He has appeared as a soloist with local orchestras, and a recent highlight was his performance of Mozart's Piano Concerto No. 21 with the Burnside Symphony Orchestra in 2021. James plans to continue further studies overseas, and aims to pursue a career as a full-time professional pianist.


About Nicky
Nicky graduated from the Elder Conservatorium with First Class Honours in Piano Performance under the tutelage of Lucinda Collins. In both her undergraduate and Honours degree, she received several scholarships and prizes for her achievements, including the Brisbane Matthews Pianoforte Prize, Maude Harriet Riley Scholarship, Thelma Dent Memorial Prize, Daisy Burmeister Salotti Scholarship for Pianoforte, Patrick Cecil Greenland Scholarship for Pianoforte, and the Jack de Vos Scholarship. Nicky is currently taking time away from her studies to broaden her musical career, and is working as an accompanist, chamber musician and private piano teacher, as well as expanding her solo performance repertoire.
Buy Tickets
Tickets for each recital concert are $10 per person, or you can consider a full-year subscription for only $200. The subscription includes all Lunch Hour Series recitals for the year, the Finals, all guest recitals and the mid-year lunch recitals held at the North Adelaide Baptist Church Hall.