Recitals Australia Presents
Junior Series
Tynte Street, North Adelaide
Wednesday 5 July, 2023
at 12.30pm
for approximately 50 minutes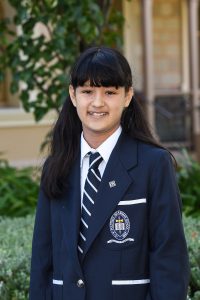 First Half: Aiyana Ishino, violin, with Simόn Pazos Quintana, piano
Program
Georg Philipp Telemann (1681–1767)
Fantasie No. 9 in B minor, TWV 40:22

Margaret Sutherland (1897–1984)
Sonatina for violin and piano

Pablo de Sarasate (1844–1908)
Spanish Dance No 5 "Playera", Op.23, No.1

Jean-Baptiste Accolay (1833–1900)
Concerto No. 1 in A minor

6' | 7' | 4' | 8' |
ABOUT AIYANA
Aiyana Ishino studied violin with Veronica Ryan at St Andrew's School where she won the Principal's Music Award in her final year of primary school. Aiyana also enjoys writing music and has won Australian Society of Music Education (ASME) Young Composer's Awards for her compositions for piano and String quartet. Aiyana has led the Adelaide Youth Strings, the Adelaide Sinfonia and is now a member of the Adelaide Youth Orchestra. She is a music scholarship holder at Pulteney Grammar School where she leads the Senior String Orchestra. Aiyana is currently studying violin with Helen Ayres at the Elder Conservatorium's Open Music Academy.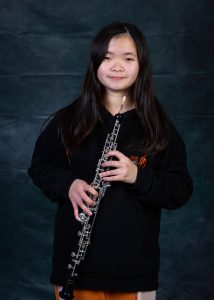 Second Half: Bridget Wong, oboe and GuZheng (Chinese harp), with Simόn Pazos Quintana, pianoo
Program
Camille Saint-Saëns (1835–1921)
Oboe Sonata in D major, Op.166
ii. Ad libitum – Allegretto – Ad libitum

Benedetto Marcello (1686–1739)
Oboe Concerto in C minor, Op.166
iii. Allegro

高山流水 ("Mountains and Rivers"), for Guzheng

迎春舞曲 ("Spring Dance"), for Guzheng

5'15" | 2' 30" | 6' | 1'40" |
ABOUT BRIDGET
A young aspiring oboist, Bridget Wong studies at Brighton Secondary School through the Special Interest Music program. She also plays wonderfully on both the GuzHeng (Chinese Harp) and piano. Having migrated from Singapore to Adelaide, she has been blessed with an abundance of opportunities to learn and perform with so many mentors at so many places, such as Adelaide Symphony Orchestra, Double Reed Big Blow, Festival of Music, Adelaide Youth Orchestra, Music Camps, School of Chinese Music & Arts, JEMS, Adelaide Eisteddfod, Brighton School Orchestras, various Concert Bands, and most recently at Recitals Australia. Outside of music, she works hard on academics and occasionally plays badminton.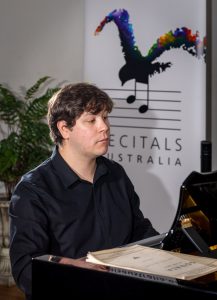 ABOUT SIMÓN
Simón obtained his Bachelor of Music with First Class Honours at the Elder Conservatorium of Music under the tutelage of Stefan Ammer. In May 2018, he performed Beethoven's Piano Concerto No.5 ("Emperor") with the Elder Conservatorium Symphony Orchestra under the baton of maestro James Lowe. Later that year he was awarded the 2018 Peter Schodde Memorial Piano Scholarship, which facilitated him travelling to Germany, Austria and England, and playing for highly respected professors and performers to further his technical abilities and musicianship.