Recitals Australia Presents
Lunch Hour Series
Tynte Street, North Adelaide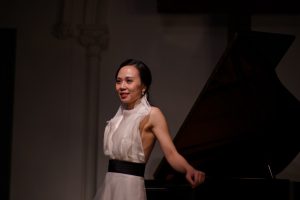 Janice Tan, piano
Wednesday 7 June, 2023
at 12.30pm
for approximately 50 minutes
Program
Frédéric Chopin (1810–1849)
Prelude in D-flat major, Op.28, No.15 ("Raindrop")
Frédéric Chopin (1810–1849)
Nocturne in C minor, Op.48, No.1
Nocturne in F-sharp minor, Op.48, No.2
Pyotr Ilyich Tchaikovsky (1840–1893)
"The Seasons", Op.37a
January: At the Fireside
February: Carnival
March: Song of the Lark
April: Snowdrop
May: Starlit Nights
June: Barcarolle
David Hicken
The Bell Carol 2.0 – Based on a Traditional Ukrainian Melody
Giacomo Puccini (1858–1924) arr. Charles Szczepanek
Nessun Dorma (from Turandot)
Claude-Michel Schönberg (b. 1944) arr. Charles Szczepanek
I Dreamed a Dream (from Les Misérables)
Hugo Peretti (1916–1986), Luigi Creatore (1921–2015), George David Weiss (1921–2010)
arr. Charles Szczepanek
Can't Help Falling in Love (1961)
5' | 14' | 25' | 4' | 3' | 4' | 3'
About Janice

Born in Guangzhou China, Australia-based pianist Janice Tan graduated from the Elder Conservatorium of Music with an Honours Degree in 2008 majoring in Classical Music Performance. Janice has pursued a rich and diverse career as a soloist, chamber musician, teacher, examiner, adjudicator, researcher, and administrator. She has a reputation for being an outstanding pianist with natural expression and sensitivity, who always reveals picturesque details in her musical story-telling.
Janice began her piano lessons at the age of 4 and won her first major piano competition at the age of 6 in China. At the age of 12, Janice was admitted into the Guangzhou Xinghai Conservatorium with a full government-funded scholarship, marking a new chapter in her career.
Janice has won numerous prizes, including the Second Youth Artist Award in 1990 (China), the Pearl Award Piano Competition in 1991 (China), the Maude Harriet Riley Scholarship in 2005 (University of Adelaide), the Patrick Cecil Greenland Scholarship for Piano in 2006 (University of Adelaide), Recitals Australia Lunch Hour Concert Awards for 2006, 2007 and 2008 (Adelaide), and the Jeffery Parson's Award in 2008 (Australia).
Janice made her first international debut in Fukuoka, Japan in 1996. She also gave performances in Australia, Canada, China, France, New Zealand, Taiwan, and USA.
Janice has become one of the most popular and acclaimed artists in Australia, performing Fever Candlelight concerts and recital series at an international level.
Janice's passion for community and charity work has also given her the title of the national nominee of Young Leader Medal, Pride of Australia 2009, and national finalist of Fair Go Medal, Pride of Australia 2010.
Buy Tickets
Tickets for each recital concert are $10 per person, or you can consider a full-year subscription for only $200. The subscription includes all Lunch Hour Series recitals for the year, the Finals, all guest recitals and the mid-year lunch recitals held at the North Adelaide Baptist Church Hall.