Recitals Australia Presents
Lunch Hour Junior Series
North Adelaide Baptist Church Hall – Tynte Street, North Adelaide
Wednesday 8 November, 2023
at 12.30pm
for approximately 55 minutes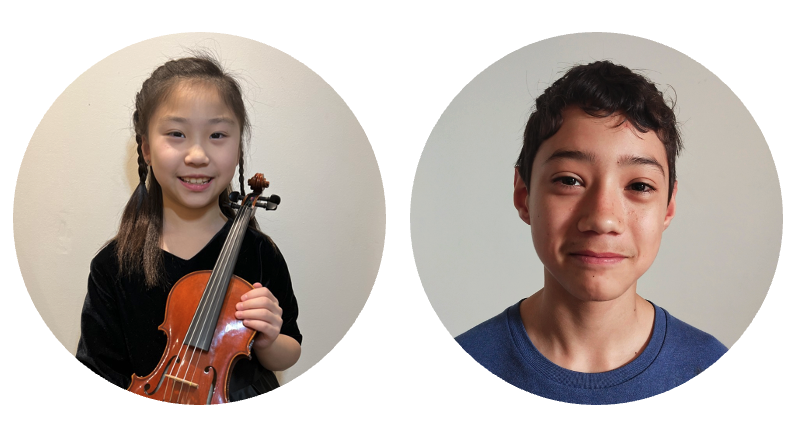 Ziqi Cheng and Anthony Cernaz
Program
Ziqi Cheng
Francesco Maria Veracini (1690 – 1768)
Sonata in E Minor 
i Ritornello
ii Allegro con fuoco
iii Minuet
Gaetano Pugnani (1731 -1798)
Largo Espressivo
Henry Eccles (1670 – 1742)
Sonata No.11 in G Minor
i Largo
ii Courante. Allegro con spirito
iii Adagio
iv Allegro Vivace
Andre Ernest Modeste Gretry (1741 – 1813)
Tambourin
10' | 3'40" | 9' | 1'30" |
ABOUT ZIQI
Ziqi Cheng is 11 years old. She commenced violin in 2019. She studies violin with Sonia Treagus and having regular Masterclasses with Kylie Mahony. Ziqi is passionate with music and is a quick learner. After one and a half years of playing violin, Ziqi was offered a position to play violin in her school orchestra. Ziqi also plays violin with the Adelaide Youth Strings and school Trio Ensemble. In August 2023, Ziqi won prizes in the Adelaide Eisteddfod Strings competition, including First prize for 12 years and under Section and Second prize for Grade 7/8 Section. Ziqi also plays piano. She won several prizes in the Adelaide Eisteddfod piano competitions. In June 2022, Ziqi was invited to play for Recital Australia Junior Stars Series with a great success. Ziqi currently studies piano with Monika Laczofy OAM, who is providing her with full support and assistance during her piano journey.
ABOUT THOMAS
Thomas majored in classical piano performance and instrumental teaching at Adelaide University. He is an examiner for AMEB and Rockschool examinations and is a busy teacher, performer and accompanist. Recently, he has performed Carnival of the Animals by Saint Säens at various locations, including Adelaide Zoo, Ukaria Mount Barker, Goolwa and Noarlunga. He has been soloist for Rhapsody in Blue with the Adelaide Wind Orchestra and accompanied for 'Broadway Diva' songs from musicals at Adelaide Fringe 2023. He has attended summer schools in France with Jean Paul Sevilla (classical) and Melbourne with Joe Chindamo (jazz).
At the 2018 Adelaide Fringe he performed The Rite of Spring for 2 pianos and in 2015 he was accompanist for 12 sell-out performances of 'Call Mr Robeson' featuring the music of Paul Robeson. He has also premiered his original pieces featuring two pianos and clarinets at the Adelaide and Melbourne Fringes. He has performed in the presence of HRH Duke of Kent for the Adelaide RIAUS centre gala opening and been guest artist for a science/music presentation with the popular science commentator Dr Karl Kruzelnicki. 
Anthony Cernaz
Ludwig van Beethoven (1770 – 1827)
Rondo in C Major Op.51 No.1

Wolfgang Amadeus Mozart (1756–1791)
Piano Sonata No.7 K.309
i Allegro con spirito

Ignacy Jan Paderewski (1860–1941)
Menuet

Enrique Granados (1867-1916)
Andaluza

Jacques Inert (1890-1962)
The Little White Donkey
5'50" | 5'30" | 3'30" | 3' | 3' |
ABOUT ANTHONY
Anthony studies piano and has reached Grade 7 level. He currently goes to Marryatville High School as a Special Interest Music student. He has participated in the Eisteddfod since last year and won the second place for Piano Solo 12 Years in 2022 and Piano Solo 13 Years in 2023.