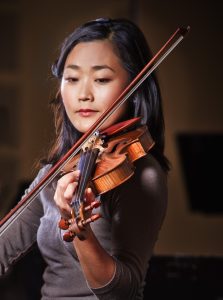 Buy
Sunday 26 November at 2.30pm
Ukaria Cultural Centre, Mt Barker
Program
Prokofiev Violin Sonata No 1
Enescu Impressions d'enfance, Op.28.
Beethoven Kreutzer Sonata.
The program is yet to be fully finalised, there may be adjustments to the pieces or length, which will be clearly announced ahead of the concert. Approximate duration 100 minutes (including interval)
About the Artists
Natsuko Yoshimoto, Violin
Born in Japan, Natsuko began playing the violin at the age of three. She studied at the Yehudi Menuhin School and Royal Northern College of Music in England and the Curtis Institute of Music in Philadephia. She received direct guidance and teaching under Lord Menuhin and Wen Zhou Li.
She has won many awards and prizes in international competitions including the Gold Medal in both the prestigious 1994 Shell/London Symphony Orchestra Competition and the Orchestra Ensemble Kanazawa Award. In 2007 Natsuko was presented with the Iwaki Award for outstanding achievement as a Japanese artist.
In great demand as a soloist, she has appeared with many world renowned orchestras including the London Symphony Orchestra, Philharmonia (London), Halle Orchestra, Odense  Symphony (Denmark), Tokyo Symphony Orchestra, Tokyo Philharmonic, Orchestra Ensemble Kanazawa, Hong Kong Sinfonietta, Melbourne Symphony and Adelaide Symphony Orchestra.
Natsuko is the Concertmaster with the Adelaide Symphony Orchestra. She was the leader of the Australian String Quartet and then the Grainger Quartet until the end of 2008.
She has given many world premieres of works by Australia's most prominent composers and has recorded for Virgin Classics, ABC Classics, Melba Records and Tall Poppies.
Natsuko plays on a Nicolo Amati dated 1650.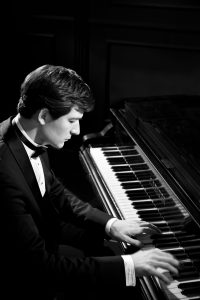 Konstantin Shamray, Piano
Konstantin Shamray was born into a musical family in 1985 in Novosibirsk, Russia and started learning piano at the age of six. At eleven years of age, he relocated to Moscow to study at the Gnessin Special Music School, progressing to the Russian Gnessin Academy of Music with Professor Tatiana Zelikman, then post-graduate studies with Vladimir Tropp.  In 2014 he completed advanced courses at Hochschule fuer Musik in Freiburg, Germany with Professor
Tibor Szasz.
In August 2008 Konstantin was announced the winner of the Sydney International Piano Competition. Konstantin is the first and only musician to date in the 30+ year history of the competition to win both First Prize and People's Choice Prize, in addition to six other prizes.  Immediately following his success, he undertook a tour of 27 performances throughout Australia. One year later he partnered with the Australian String Quartet for their National Subscription Tour.  Following the competition, he recorded CDs for the labels Naxos, ABC Classics and Fonoforum.
His international performances include solo recitals and collaborations with orchestras in Russia, Europe, Australia, New Zealand, Singapore and China. He has performed with the Russian National Philharmonic, the Mariinsky Theatre Orchestra, Moscow Virtuosi, Orchestre National de Lyon, Prague Philharmonia, Belgrade Philharmonic Orchestra and the Sydney Symphony among others. With an equal passion for chamber music, Konstantin has enjoyed collaborations with Johannes Moser, Kristof Barati, Alban Gerhardt, Feng Ning and others.
In 2011, Konstantin won First Prize at the Klavier Olympiade in Bad Kissingen, Germany and has since been performing yearly at the Kissinger Sommer festival.  In July 2013 he was awarded the festival's coveted Luitpold Prize for "outstanding musical achievements".  He has also enjoyed critical acclaim at the Klavier-Festival Ruhr, the Bochum Festival in Germany, the White Nights Festival in St. Petersburg and the Adelaide Festival.
Buy tickets
[ionwp module="sessions" function="getSessionTicketList" title="Natsuko Yoshimoto and Konstantin Shamray"]