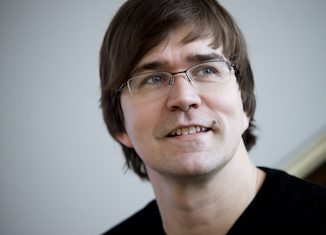 SOLD OUT
Sunday 2 April at 2.30pm
Ukaria Cultural Centre, Mt Barker
Program
Jean Sibelius Kyllikki, Op. 41 – Three lyrical pieces
Claude Debussy Préludes, Book 2
Tristan Murail  Cloches d'adieu, et un sourire… (In memoriam Olivier Messiaen)
Ludwig van Beethoven Sonata in F Minor, Op. 57 "Appassionata"
The program is yet to be fully finalised, there may be adjustments to the pieces or length, which will be clearly announced ahead of the concert. Approximate duration is 120 minutes (including interval)
About the Artist
Paavali Jumppanen is an internationally renowned pianist, a versatile performer equally at home as a concerto soloist, chamber musician, and a recitalist. His vast repertoire spans piano literature from Bach to the Avant- garde. He has worked with numerous contemporary composers and premiered many solo piano and chamber works. His collaborations with esteemed composers including Pierre Boulez, William Duckworth, and Henri Dutilleux as well as composers of his native Finland–among them Perttu Haapanen and Lauri Kilpiö–have opened for him a broad perspective into the dynamic nature of new music.
Paavali Jumppanen attended at the Sibelius Academy in Helsinki and later worked with Krystian Zimerman at the Basel Music Academy in Switzerland where he also studied organ, fortepiano, and clavichord. Russian born pianist Konstantin Bogino has remained an important mentor throughout his studies and career.
In the recent years Paavali Jumppanen has dedicated much of his time into performing cycles of the complete Beethoven and Mozart Piano Sonatas. He has also often performed all of the Beethoven Piano Concertos and chamber sonatas. Of one Beethoven recital, The Boston Globe reported how "the sheer, overflowing energy of his musicianship held one's attention throughout this impressive performance and the result was a bracing and enjoyable reminder of how path-breaking Beethoven's music was."
Paavali Jumppanen's has an expanding discography which includes "the best recorded disc of Boulez's piano music so far" (The Guardian, about the three sonatas recording made upon the composer's request) and the complete Beethoven Piano Sonatas, the first four discs of which were released by Ondine between 2014–2016. Mr. Jumppanen spent the 2011–12 season as a visiting scholar in Harvard University's Music Department studying musicology and theory to deepend his immersion in Viennese 18th century music.
Follow Paavali's blog at www.paavalijumppanen.com
Buy tickets
SOLD OUT